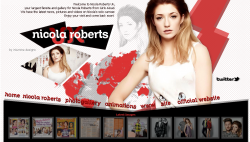 If your reading this then you should be able to see our brand new 'pop-art' layout! I decided to refresh the site using the new Styled to Rock promo pictures.
This is our 8th layout since we opened in 2009, and it was made by Inlumine Designs (again). If you have a fansite, go check them out and order!
We should be getting a new gallery layout soon!
Tweet me on @NicolaRobertsUK your thoughts of the new look, i'ld love to know your thoughts.